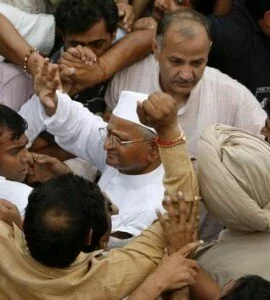 To Prime Minister Manmohan Singh's endorsement Monday of a 'reasoned' debate on the Lokpal Bill, an adamant Anna Hazare has now made it clear that no one less than the PM's own representative will do for negotiations.
Anna's close aide Kiran Bedi posted on Twitter the Gandhian wants the government to come forward to talk the Janlokpal Bill. "Let the PM send his representatives," she tweeted as Anna's wish.
She also rubbished all ongoing negotiations as "rumours".
This would mean Anna Hazare and his team are not happy with the 'back-channel' talks already in progress with senior Maharashtra babu and seasoned Anna pacifier Umesh Chandra Sarangi and spiritual guru Baiyyuji Maharaj.
Anna's demand came within hours of the Prime Minister saying in Kolkata the government is open to a "reasoned debate" on the Lokpal Bill and that the Parliamentary panel examining it can propose changes.
source from IndianExpress
Related posts:
Category: National News, News
Comments (0)
Trackback URL | Comments RSS Feed
There are no comments yet. Why not be the first to speak your mind.