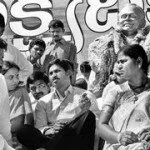 In retaliation to the mention of late Y.S. Rajasekhar Reddy as a criminal conspirator in the FIR filed by CBI in Y.S. Jagan Mohan Reddy illegal assets' case, the MLAs of the Congress and the Praja Rajyam owing allegiance to the Kadapa MP have decided to quit from the Assembly.
The exact number of legislators who wish to resign will be known after the leaders meet at the YSR Congress headquarters here on Sunday.
The Praja Rajyam MLA from Allagadda, Mrs Sobha Nagireddy, confirmed the resignation decision to this correspondent on Saturday night.
Source from DC
Related posts:
Category: News, Top News, Warangal News
Comments (0)
Trackback URL | Comments RSS Feed
There are no comments yet. Why not be the first to speak your mind.