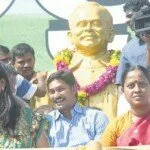 Twenty-nine Andhra Pradesh legislators loyal to YSR Congress party chief Y.S. Jaganmohan Reddy have decided to resign to protest the inclusion of late chief minister Y.S. Rajasekhara Reddy's name in the complaint registered by the CBI in a case against his son.
Rallying behind Jaganmohan, who is facing a Central Bureau of Investigation (CBI) probe into the alleged illegal assets, 24 legislators, almost all of them belonging to the ruling Congress, decided to quit.
Five other legislators have conveyed to the party that they would also resign, said YSR Congress leaders.
Congress leader Amarnath Reddy told reporters after a meeting at YSR Congress party office here that they have decided to submit their resignations out of love for their beloved late leader.
"The Congress had called YSR a god when he was the chief minister and now the same party is tarnishing his image after his death by including his name in the FIR (first information report)," said Amarnath.
He said they would submit their resignations to assembly speaker N. Manohar on Sunday evening.
The party hopes many others would come forward to quit.
"You should not be surprised if 29 more legislators submit their resignations tomorrow (Monday)," said YSR Congress party leader Jupudi Prabhakar.
Two MPs and four members of state legislative council loyal to Jagan are also likely to resign.
The FIR says YSR doled out several favours to certain companies which invested in the firms floated by his son Jaganmohan in a quid-pro-quo arrangement.
YSR, who became chief minister in 2004, died in a helicopter crash in 2009.
Jagan, as Jaganmohan Reddy is popularly known, quit the Congress last year after he was sidelined by the party leadership. He floated the YSR Congress party in March this year and was re-elected to the Lok Sabha from Kadapa.
The CBI last week launched the probe against Jagan on the direction of the Andhra Pradesh High Court on the petitions of a state minister and some leaders of opposition Telugu Desam Party (TDP).
The central agency during the last four days searched residences, companies of Jagan, his family members and also the firms which invested in his businesses.
The legislators loyal to Jagan met and took the decision even as Jagan continues to tour Krishna district to console the family members of those who committed suicide or died of shock following his father's death.
Those who attended the meeting include P. Subhash Chandra Bose, B. Srinivas Reddy, Konda Surekha and K. Ramakrishna who served as ministers under YSR.
Actress-turned-legislator Jayasudha, Praja Rajyam Party (PRP) legislator Shoba Nagi Reddy were also among those who attended the meet.
Source from DC
No related posts.
Category: City News, News, State News, Top News