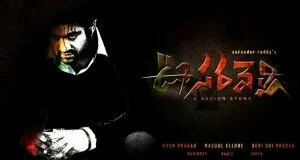 The war is on between Jr NTR and Mahesh Babu. Or rather, between Oosaravelli and Dookudu. Oosaravelli's producer BVSN Prasad is doing everything he can to make sure that their film comes out tops in the fight. We hear that while Dookudu released in 75 centres in the United States of America, Oosaravelli will be released in 91 centres across the country. He has also planned for several premiere shows the day before the official release on October 6. The producer seems to be of the belief that if he increases the number of theatres, they can rake in more moolah and beat the opening record set by Dookudu. In the film's major market, the Nizam territory, Oosaravelli will release in 220 theatres – which is 15 theatres more than Dookudu. We also hear that Prasad has ordered for 200 cutouts of Jr NTR to be set up in major cities, towns and theatres across Andhra Pradesh. The makers are also promoting the two major fights in the film, with the hope that it will draw in the audiences. But whether they will succeed in defeating Dookudu remains to be seen.
Oosaravelli also stars Tamannaah Bhatia, Payal Ghosh and Prakash Raj.
Related posts:
Dookudu Movie Stills, Dookudu Movie making Stills, Dookudu film makeing Stills, Mahesh babu Dookudu Movie Stills
Oosaravelli HQ Working Stills, jr ntr Oosaravelli Working still photos, ntr oosaravelli movie stills
NTR Oosaravelli mp3 Songs free Download, Download Oosaravelli mp3 Songs Free, FREE Download Oosaravelli mp3 songs
Oosaravelli Exclusive Trailers, jr ntr Oosaravelli Trailers, high quality Oosaravelli Trailers, download Oosaravelli Trailers
Oosaravelli Audio Release Function Photos – Oosaravelli Audio Release Gallery photos, jr ntr Oosaravelli Audio Release function photos
Category: Cinema News
Comments (0)
Trackback URL | Comments RSS Feed
There are no comments yet. Why not be the first to speak your mind.