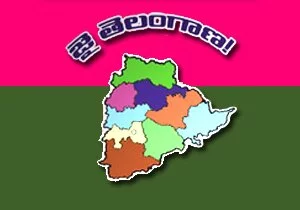 After two days of total disruption in the Telangana region, train services were restored on Sunday night on conclusion of the two-day 'rail roko' called by the Telangana Joint Action Committee (T-JAC) which, however, said it would announce the future course of its agitation in a couple of days.
Several trains left Secunderabad and Hyderabad stations after the pro-Telangana activists vacated the railway tracks on which they were squatting since the 'rail roko' began on Saturday morning. Describing 'rail roko' as a huge success, T-JAC chairman Kodandaram said the future course of action would be chalked out shortly.
Train services, however, remained paralysed till evening as supporters of the TRS, BJP and other parties stayed put on the railway tracks where they bathed, cooked, ate and held 'dhoom-dham' cultural programmes.
Even after the end of the 'rail roko' there was no significant relief to the commuters since the buses of the A. P. State Road Transport Corporation (APSRTC) continued to remain off the roads for the seventh day running.
Efforts by the RTC management to persuade the staff to end their indefinite strike failed as leaders of the National Mazdoor Union, spearheading the agitation, refused to oblige. The only silver lining was that the autorickshaws began plying by late evening after being off the roads for two days. The auto drivers' unions had joined the strike on Friday midnight.
KTR's warning
TRS leader K. T. Rama Rao, while participating in 'rail roko' at Moula Ali railway station warned that an indefinite stoppage of trains would be organised if the Centre continued with its stubborn attitude. He demanded introduction of a bill for Telangana formation in Parliament. State BJP president G. Kishan Reddy in Mahbubnagar gave a call for laying a siege to the Secretariat and non-cooperation with elected representatives of the Congress. Hundreds of transit commuters, who were stranded at major railway stations, including Nampally and Secunderabad, turned the places into make-shift shelters. Heavy security was deployed near the railway stations in a bid to prevent any untoward incident and protect the properties.
Meanwhile, the South Central Railway announced restoration of several trains from Sunday night, including Secunderabad-Machilipatnam, Hyderabad-Mumbai express, Hyderabad- Nizamuddin Dakshin Express, Hyderabad-Kolhapur Holiday special, Adilabad-Tirupati Krishna express, Machilipatnam-Secunderabad, Repalle-Secunderabad passenger, Manuguru-Secunderabad Kakatiya Passenger and Manuguru-Dornakal passenger. The passenger reservation system counters were kept open till 8 p.m. following the restoration of trains.
source from The Hindu
Related posts:
Category: Latest News, News
Comments (0)
Trackback URL | Comments RSS Feed
There are no comments yet. Why not be the first to speak your mind.