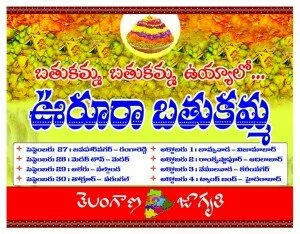 Bathukamma festival is the biggest cultural festival of Telangana region in Andhra Pradesh. Bathukamma 2011 date is October 4. The festival starts on September 27 and ends on October 4 with Saddula Bathukamma and Bathukamma nimajjanam. This year, Telangana Jagruti, a cultural organization, will celebrate Batukamma vedukalu in the association of TNews Channel & Telangana Rashtra Samithi (TRS). They will celebrate Bathukamma 2011 as Ooroora Bathukamma & Koti Bathukammala Jathara which is aimed to active participation of more than 10 millions ('Koti' means crore in Telugu) of Telangana women in the festival.
The organization is going to organize the proud fest of Telangana in every town and village in the state, New Delhi and in United States of America, Australia, UK and Dubai from the first day of Durga Navaratri. The celebrations may end on Bathukamma pandaga (the culmination or immersion day of Bathkamma). Jagruti is planning to organize Jatharas (fairs) in selected places in Telangana region.
KCR Talking From Telangana Bhavan about ooroora bathukamma
Prof Kodanda Ram Talking From Telangana Bhavan
No related posts.
Comments (0)
Trackback URL | Comments RSS Feed
There are no comments yet. Why not be the first to speak your mind.