| | | | |
| --- | --- | --- | --- |
| Primary schools | Upper Primary Schools | High School | Hr secondary school |
|       2819 |       801 |       1039 |        1 |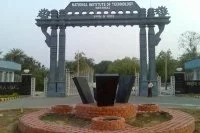 Warangal is the 4th largest city in Andhra Pradesh and is known for important educational institutions like Kakatiya Medical College and National Institute of Technology, Warangal . Established in 1959 as the first of "Regional Engineering College"s in the country, foundation stone laid by the then frist prime minister of India Jawahar Lal Nehru, the NIT grew into an important national level institute for engineering studies. Warangal NIT is one of the best Institutes in India.
Kakatiya University
Kakatiya Medical College
Kakatiya Institute of Technology and Science , Warangal
National Institute of Technology, Warangal
University College of Law, Subedari, Warangal
Government Polytechnic College
Warangal Institute of Technology and Science
CKM college
Arts & Science College
Lal Bahadur College (renowned as LB College)
Talla Padmavathi College Of Pharmacy,Warangal
Pathfinder Engineering College, Mamunooru, Warangal
Christhu Jyothi Institute of Technology and Sciences
Balaji Institute of Technology & Science (BITS)
S R Engineering College, Ananthasagar, Warangal
S R College of Pharmacy, Ananthasagar, Warangal
Vishwa Teja College of Pharmacy, Nirupamnagar, Warangal
Vaagdevi College Of Engineering, Bollikunta, Warangal
Vaagdevi College of pharmacy,Hanmkonda, Warangal
V.M.R Polytechnic College, Rampur, Warangal
Islamia College, Warangal
Mehboobia Panjetan Minority Arts College, Warangal
There are several non-governmental organizations active in primary and secondary education in Warangal District. Of these, the best known is the Rural Development Foundation and Institute for Technology and Management, Warangal (ITM Warangal).
Category: BEd Colleges, Colleges, Education, Engineering Colleges, History, Medical Colleges, Pharmacy Colleges, Warangal Info