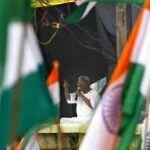 Team Anna on Saturday said they have received a communication from the government that a resolution carrying their demands on the Lokpal Bill will be put to a voice vote, a move which they termed as a "very happy" development.
Fresh trouble emerged on Saturday afternoon after the government decided only to convey sense of the House to Team Anna and not put the resolution for voting following which the activists hardened their position saying it was "betrayal" and only a resolution which will be put to vote will be acceptable.
This forced the government to change its stand.
The activist's camp said they have received the communication from the government about its decision to put the resolution to voice vote.
"We are very happy with the development," a Team Anna spokesperson said.
Asked whether Mr. Hazare would end his fast on Saturday, the spokesperson said the decision will be taken by Mr. Hazare himself.
"Hazare will decide whether to break his fast today or tomorrow morning. Normally, he prefers to break the fast in the mornings," the spokesperson said.
Source from Hindu
No related posts.
Category: Latest News, Top News
Comments (0)
Trackback URL | Comments RSS Feed
There are no comments yet. Why not be the first to speak your mind.