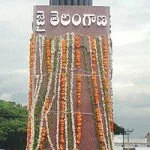 Telangana is the largest single region of the three regions of Andhra Pradesh state covering 41.47% of its total area, is inhabited by 40.54% of the state's population, contributes about 76% to the state's revenues (excluding central government contribution). From Central govt: 19.86%, From Telangana: 61.47% (including 37.17% from Hyderabad), From Andhra: 14.71, From Rayalaseema: 3.90%.
Among others, alleged injustices in water, budget allocations, jobs are the grievances cited by Telangana proponents. Telangana supporters cite that the majority of water supply is from the Telangana region, yet canal irrigation disproportionately benefits the Coastal Andhra region with relative underdevelopment of Telangana. In addition, the share of education funding for Telangana ranges from 9.86% in government aided primary schools to government degree colleges which has a share of 37.85%. Above numbers includes the expenditure in Capital Hyderabad. In addition, budget allocations to Telangana are generally less than 1/3 of total Andhra Pradesh budget. In addition, there are allegations that the Telangana budget is being misappropriated. Telangana proponents cite that only 20% of total Government employees, less than 10% employees in secretariat, less than 5% of head of the departments in Andhra Pradesh are from Telangana, while those from other regions make up the bulk of employment. Andhra Pradesh was represented by Telangana chief ministers for only 6-1/2 years out of over five decades of its existence, with no chief minister from the region being in power continuously for more than 2-1/2 years.
Proponents of a separate Telangana state feel all the agreements, accords, formulas, plans and assurances on the floor of legislature and Lok Sabha, in last 50+ years, could not be honoured and Telangana was forced to remain neglected, exploited and backward. They allege that the experiment to remain as one state proved to be a futile exercise and therefore, separation is found to be the best solution.
Related posts:
Category: History, Telangana, Telangana History