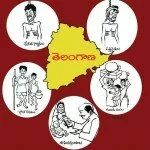 The emotions and forces generated by the movement in 1969 were not strong enough, however, for a continuing drive for a separate state until 1990s when Bharatiya Janata Party (BJP), promised a separate Telangana state if they came to power. BJP created Jharkhand, Chhattisgarh and Uttarkhand states in year 2000 as promised. But the BJP could not create a separate Telangana state because of the opposition from its coalition partner, Telugu Desam Party. These developments brought new life into the separatist Telangana movement by year 2000. Congress party MLAs from the Telangana region, supported a separate Telangana state and formed the Telangana Congress Legislators Forum. In another development, a new party called Telangana Rashtra Samithi (or TRS), led by Kalvakuntla Chandrasekhar Rao (KCR), was formed with the single point agenda of creating a separate Telangana state, with Hyderabad as its capital.
Related posts:
Category: History, Telangana, Telangana History
Comments (0)
Trackback URL | Comments RSS Feed
There are no comments yet. Why not be the first to speak your mind.