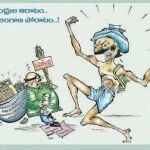 In February 2009 the state government declared that it had no objection, in principle, to the formation of separate Telangana and that the time had come to move forward decisively on this issue. To resolve issues related to it the government constituted a joint house committee.
Ahead of the 2009 General Elections in India, all the major parties in Andhra Pradesh supported the formation of Telangana. The Bharatiya Janata Party (BJP) again announced their policy of having smaller states and would create two more states, Telangana and Gorkhaland, if they won the election. The Congress Party still says it is committed to Telangana statehood,[61] but claims Muslim minorities are opposed to creation of separate state along with majority of people. Some analysts, however, feel that the "Muslim reluctance card" has been deftly played by then Chief Minister Y. S. Rajasekhara Reddy, who is staunchly opposed to the formation of the new state.
The Telugu Desam Party (TDP) had promised to work for Telangana statehood. Telangana Rashtra Samithi (TRS) joined a Mahakutami (or grand alliance) with TDP and left parties to defeat the Congress party for denying statehood for Telangana.
The Praja Rajyam Party (PRP), newly founded by film star Chiranjeevi, supported Telangana statehood prior to elections,but later changed its stance. Nava Telangana Party merged with PRP after it realized that there is not enough political space for two sub-regional Telangana parties with Telananga statehood as main agenda.
Several political parties, including some Telangana congress leaders, criticized Chief Minister, Y.S. Rajasekhara Reddy (YSR), when he changed his stand from pro-Telangana separation and gave anti-separation statements after the polls.
Congress returned to power both at center and state.
In September 2009, Chief Minister Y. S. Rajasekhara Reddy (YSR) died in a helicopter crash while flying in bad weather.
On November 29, 2009, the TRS president, K. Chandrashekar Rao (KCR) started a fast-unto-death demanding that the Congress party introduce a Telangana bill in the Parliament. He was arrested by the government of Andhra Pradesh. Student organizations, employee unions and various organizations joined the movement. Telangana strikes shut down Telangana on Dec 6th and 7th. Student organizations planned a massive rally at the state Assembly on Dec 10th. Government warned that the rally did not have permission and deployed police troops through out Telangana. The apparent decline in KCR's health led to a sense of urgency to take a decision on the issue of Telangana statehood.
Related posts:
Comments (0)
Trackback URL | Comments RSS Feed
There are no comments yet. Why not be the first to speak your mind.