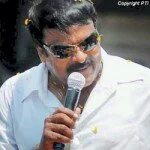 Filmstar Chiranjeevi on Saturday formally joined the Congress and hailed Rahul Gandhi as the "ray of hope" and future prime minister.
Chiranjeevi, who leads the Praja Rajyam Party in Andhra Pradesh, filled up a form seeking primary membership of the Congress and the AICC headquarters in the presence of Gandhi and senior leaders.
"I will remain in the Congress for the rest of my life. I will be a loyal worker…I thank Rahulji, our Prime Minister in the future," the actor said.
Chiranjeevi also hailed Gandhi as the "future" and the "ray of hope" for the country.
Besides Rahul, Health Minister Ghulam Nabi Azad, Petroleum Minister Jaipal Reddy, AICC General Secretary Janardan Dwivedi and political secretary to Congress President Ahmad Patel were present on the occasion.
PRP, which was launched in August, 2008, has 18 MLAs in the 294-member Andhra Pradesh Assembly.
The actor is considered to wield influence in coastal Andhra and Rayalaseema regions, but has only negligible in the Telangana area where a strong separatist movement is currently on.
Chiranjeevi was earlier scheduled to meet Congress President Sonia Gandhi between August 7 and 10, to formally take primary membership of Congress. However, since Sonia is undergoing medical treatment in the US, the PRP chief joined the Congress in the presence of Rahul Gandhi.
Source from Sify.com
No related posts.