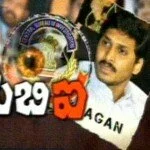 The FIR then goes on to list the modus operandi of these alleged crimes by Jagan and the several companies that invested in his companies, and goes on to say that most of the shareholders who invested in these firms were "benamis" of Jagan. The details of the shareholders of Jagathi Publications, which as of March 31, 2010, had a paid-up capital and share premium of Rs 844.129 crore, are as follows: Hetero Group -Rs 4 crore, India Cements -Rs 40 crore, Potluri Vara Prasad -Rs 146.97 cr, Nimmagadda Prasad -Rs 100 cr, Penna Cements Group -Rs 45 cr, Lanco Group -Sridhar -Rs 30 cr, Sajjala Group -OMC -Rs 49 cr, B Purushotham Naidu Group -Rs 45 cr, Ramana Reddy and Nagi Reddy of Sandesh Labs -Rs 28 cr and others.The FIR held that with regard to Jagathi Publications, while the promoters and their group of companies have subscribed to share capital at par, "all other shareholders are alleged to have subscribed to the shares at a uniform premium of Rs 350/share even before the company began commercial operations. Further, the CBI states: "Jagathi Publications, during the past two years, continued to receive investments from the same companies at the same premium making the total investment at Rs 1,246 crore though this venture is alleged to have accumulated losses of Rs 349 crore."
The FIR then details the quid pro quo for shareholders who invested in Jagan's firm. The Nimmagadda Prasad group of companies, which invested Rs 100 crore in Jagathi Publications, was allotted 15,000 acres in Prakasam district for the Vanpic project in violation of all norms. The Hetero Group of companies was allotted 240 acres for an SEZ at Nakkapalli in Visakhapatnam and another SEZ at Jedcherla in Mahbubnagar.
Likewise, for other investments in firms floated by Jagan, Aurobindo pharma group was allotted an SEZ at Nakkapalli as a quid pro quo for investing Rs 10 crore, while Pioneer Infrastructure Holding ltd, which invested Rs 20 crore, was given various contracts with favourable terms. Pioneer is owned by P Pratap Reddy, state Congress treasurer and close confidant of YSR. The Penna Cements group, also owned by Pratap, invested Rs 45 crore in Jagathi Publications and Rs 23 crore in Carmel Asia Holdings, for which it was given limestone mining lease over 304.74 hectares in Kurnool district, as well as another limestone licence on 822.13 acres in Ranga Reddy district.
Similarly, PVP Business Ventures was allowed to buy about 595 acres in Saroonagar mandal of Ranga Reddy district by indulging in a "scandalous deal" and the FIR states that the exercise was only to protect the illegal transaction at which the interests of the private parties was protected at the cost of state revenue. RR Global Enterprises, the FIR states, has the same registered address as Jagathi Publications, and was allowed to carry out illegal iron ore mining in return for investment in Jagathi Publications. The mining licence of RR Global has since been suspended, the FIR notes.
Among the other major companies that the FIR lists is Sandur Power. Jagan took over the company in June 2001 and the company started generating power in May 2005. However, Sandur Power, whose total worth could not be more than Rs 150 crore being of limited capacity of 22.5 MW, "sold its shares to various companies and persons at huge premium with the objective of receiving bribes and routing the illegal wealth," the FIR states. By purchasing 21.42 lakh shares at a premium of Rs 650 per share, Nimmagadda Prasad pumped in Rs 140 crore into Sandur Power, it states.
The above acts reveal the commission of cognizable offences of criminal conspiracy, cheating, criminal breach of trust, falsification of accounts and criminal misconduct, the FIR states. It lists Accused No. 72 as directors and promoters of unknown companies.
Source from HyderabadDailyNews
Related posts: