Poonam Pandey is one of India's new breed of celebrities who are famous for being famous not unlike the Kim Kardashians of the US. Pandey's raunchy ""Mirror Act"" 2nd trailer video which she released Sunday 1AM, Where her ""Bathroom Secrets"" first trailer video is recently the Internets biggest sensation online. But popular video site YouTube has banned and removed provocative footage of the leggy lass ""Mirror Act"" in a two piece bikini for violating its policy.
Poonam Pandey had apparently cross-linked the nearly four-minute-long YouTube video on her website http://www.poonampandey.co.in. But now, the steamy video shows a message of violating YouTube policy that reads, ""This video has been removed as a violation of YouTube's policy against spam, scams and commercially deceptive content."" The ""Mirror Act"" video of Poonam Pandey showed the model standing in front of the Mirror in a low white bikini and doing provocative actions. The Website has reportedly got 9,68,480 hits as till Saturday. But YouTube has flagged the video as age-restricted in accordance with its community guidelines.
However, Poonam has also confirmed it on her Twitter page. "" Ohhhh my Goshhhh!!!! Youtube Removed my 2nd Trailer The ""Mirror Acts"" i guess it cant resist the Heat.. it says Video removed due to violation of Youtube's policy against spams. scams and commercially deceptive content?? But there Was nothing like that it was jusr Hotter!!! ( as i had Told u its gonna get Hot, Hotter & Hottest … Within next 12 hrs will Share the Third Video Trailer The ""Bed Room Secrets"" (sic).""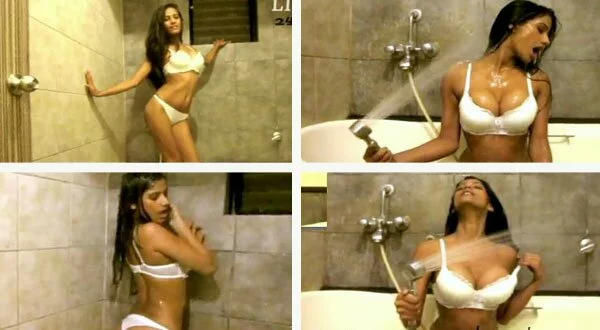 It seems Poonam Pandey is not content stripping only once. That's probably why why she's launching a site where she "promises fun 24 X 7″. Meanwhile, the lady has posted a video where she's taking a shower. She claims it's just a trailer.
Wearing a white bikini, the wannabe model's striptease is picturised in her bathroom. In the video, Poonam emerges from a bathtub and swirls provocatively. She goes on to take a shower and continues with the striptease act.
After posting the video Poonam tweeted, "This Was Just the TRAILER …. Lot u will See Live24x7 on my Website http://www.poonampandey.co.in/ ,,,, But yes i have Few more Trailer to Share!!
"Love u All Muwwwwwwaaaah!! The First Look(Video) is Here "My Bathing Secrets" http://www.poonampandey.co.in/ ," the lady had tweeted.
She self-censored the video by putting a disclaimer that people under 18 are not allowed to watch the video. She had tweeted, "2 WARNING, 18 and under should not try looking up the Video.. that said i do not take responsibility for anyone under age looking this Video."
Poonam Pandey promised to post even hotter videos soon. She wrote on her Twitter account, "Hope u Loved this Video Trailer on Poonam Pandey Live 24×7 http://www.poonampandey.co.in Will Share Another Trailer, its gonna b Hot, Hotter & Hottest."
Related posts:
Category: Cinema News