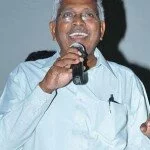 Telangana Political JAC Convener, Prof. Kodandaram, has announced that all the highways in the region would be blocked from September 18 as part of the ongoing general strike.
Talking to the media here on Wednesday, Prof. Kodandaram said that the general strike was successful and there was no inconvenience to the people. He said the aim of the general strike was to strangle the government financially. He said that it would have been better if the ministers also joined the strike. The people's representatives should actively participate in the agitation, he added.
Related posts:
Prof. Kodandaram speech at 'Jana Garjana' in karimnagar
Category: Telangana
Comments (0)
Trackback URL | Comments RSS Feed
There are no comments yet. Why not be the first to speak your mind.