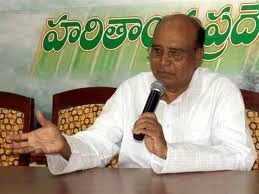 As seen the textiles minister P.Shankar Rao shot into another controversy this time as a land-grabber. Now his reputation is alleged to be under clouds. Rao along with his brother had been making attempts to grab the land where houses existed under Alwal municipality.
The green fields plot owners' association office-bearer has filed a complaint against textiles minister P.Shankar Rao for misusing his official position as a minister to scuttle the smooth process of land regularisation under GO MS 166 dated 16-2-2008.
It was stated in the complaint that the land measuring 62.15 acres bears survey numbers 373, 375, 376, 378, 379 and 386. Approximately 875 plots have been made and all the purchasers paid the stamp duty. Nearly 300 of them constructed houses with the permission of Alwal municipality with bank loans. But in 1995 Shankar Rao sent a legal notice to them that they had illegally occupied the land.
The said association president S.Chandrashekar has complained to the police commissioner, Cyberabad, that the minister has brought his brother P.Dayanand's name as a benami name to grab the lands in the green fields falsifying several issues and filing false cases in the high court.
It was alleged that Shankar Rao also threatened the association leaders and prevented the officials from discharging their duties to grab the land. Rao also tried to pose a problem to them with the connivance of the behest of revenue officials while misleading the courts.
The complaint running into 20 pages brought to the notice of the commissioner how Shankar Rao misused his official position using letter pads and influencing the government machinery to harass the green fields association members of Kannajuguda village, Malkajgiri mandal under Alwal municipality in Rangareddy District.
The survey work was stopped by Shankar Rao in December 2009 employing his goons with the support of Tahsildar Mukunda Reddy though the high court had declared their plots in the survey numbers in 2005 as government lands by confirming orders of Joint Collector, Rangareddy District.
source from crimenews
Related posts:
Chiranjeevi Upcoming movie with Shankar – Bharateeyudu 2 ?
Comments (0)
Trackback URL | Comments RSS Feed
There are no comments yet. Why not be the first to speak your mind.