Two days after the Delhi High Court blast case, there has been no breakthrough in the probe. The investigations into the Delhi High Court blast seem to be going nowhere despite 5 detentions and two e-mails claiming responsibility for the terror attack.
After the HUJI e-mail originating from kisthwar claiming responsibility, a new mail allegedly from the Indian Mujahideen has emerged. They too are taking responsibility for the blast. The Delhi Police have announced a RS 5 lakh award for anyone who can provide a lead.
The death toll from Wednesday's blast now stands at 13. Two of the 91 injured remain in a critical condition. The National investigation Agency, which is spearheading the probe into the blasts has taken five people into questioning so far.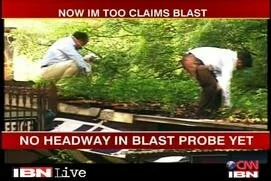 Day break on Thursday and a fresh round of intensive combing of the blast site from tree-tops to roadside crevices. The search began earnestly but by afternoon the National Investigation Agency ran into two conflicting dead-ends after a fresh mail was received by media houses – this time by someone claiming to be from Indian Mujahideen. A Santro being hunted by the police car being was recovered from Faridabad but unconnected with the blast.
"That car has nothing to do with the blast," said R K Singh.
By morning, the investigators had also managed to identify a cyber-cafe in Kishtwar near Jammu from where the e-mail claiming responsibility by Harkat-ul-jehad was allegedly sent. Its owner and 3 others were detained for questioning and though investigators say they are probing both mails, they may well be red herrings. By noon the UP police detained a person in Balrampur as he allegedly resembled one of the sketches.
A Rs five lakh reward for information on the possible bombers was quickly announced by the NIA even as an inter state meeting scheduled for Friday is likely to widen the scope of investigations further.
Day 2 and the death toll has gone up by 1. As public anger rises, investigators are struggling for leads. Teh challenge is not just to find the bombers but also to restore public faith at a time when more e-mails are daring the government to stop terror attacks if it can.
source from CNN IBN live
No related posts.
Category: City News, Latest News, News
Comments (0)
Trackback URL | Comments RSS Feed
There are no comments yet. Why not be the first to speak your mind.