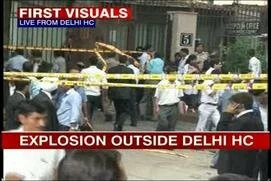 At least nine people have been killed in an explosion outside the Delhi High Court on Wednesday morning. The explosion took place outside Gate No. 5 of the Delhi High Court at 10:17 AM injuring 45 others.
Union Home Secretary RK Singh confirmed that nine people have died in the explosion.
UK Bansal, Secretary (Internal Security) in the Ministry of Home Affairs, said that the explosive device was kept in a briefcase. He said that the blast was well planned and of high intensity.
The injured have been rushed to All India Institute of Medical Sciences (AIIMS), Ram Manohar Lohia Hospital and Safdarjung Hospital with some of them reportedly in a critical condition.
National Security Guard (NSG) and National Investigation Agency (NIA) teams have also reached the blast site.
NSG Director General Rajen Medhekar said that ammonium nitrate has been used in the blast.
"Whatever we could gather from the blast investigations is that it is an IED (improvised explosive device) with ammonium nitrate. We are working with the Delhi Police to get details," said Medhekar.
The Delhi Police said that Gate No. 5 is one of the busiest areas of the Delhi High Court and have cordoned off the area. Gate no. 5 of the Delhi High Court is where the passes are made for the litigants and the explosion happened outside the reception.
Police officials said that about 100 to 200 people were waiting in queue to get passes for entry into the court complex.
Forensic experts have reached the site and are examining forensic evidence to find out the nature of the blast. Fire tenders and ambulances have also reached the blast site.
Court business is usually heavy on Wednesday which is listed as a Public Interest Litigation(PIL) day when the visitors come to the court in large numbers.
It is in the second time in four months that a blast occurred outside the Delhi High Court complex. An explosion on May 25 triggered panic prompting the authorities to sound a high alert in the capital and tighten security at public places. But no one was injured in the may 25 blast.
In that blast too ammonium nitrate was used and the explosive device was wrapped in a polythene bag and kept close to the car parked near Gate No. 7. The blast took place at 1:30 PM. Along with ammonium nitrate, a battery-like object, wires and some nails were found at the site by forensic experts.
This is the the worst terror attack in the capital since the triple blasts on September 13, 2008 in which 25 people were killed. On September 13, 2008 serials blasts had rocked Karol Bagh, Connaught Place and Greater Kailash in the capital in which over 150 people were injured.
Source from IBNLIVE
No related posts.
Category: Latest News, News
Comments (0)
Trackback URL | Comments RSS Feed
There are no comments yet. Why not be the first to speak your mind.