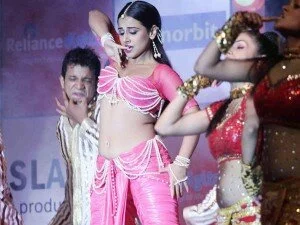 Vidya Balan was 'oomph personified' as she danced to the tunes of 'Ooh la la' at The Dirty Picture music launch on Friday.
Vidya Balan shook her booty to Bappi Lahiri's popular song 'Ooh la la' from The Dirty Picture. With this, Vidya kickstarted the publicity campaign of her upcoming release, The Dirty Picture at the film's music launch on November 4, 2011.
The producer of The Dirty Picture, Ekta Kapoor decided to break from the usual norm of inviting only the press at the music launch. Instead, The Dirty picture music launch event was held at a suburban mall in Mumbai.
As soon as the word spread that Vidya Balan along with co-stars Naseeruddin Shah, Emraan Hashmi and Tusshar Kapoor would perform on stage, a crowd of approximately 2,000 people gathered to have a glimpse of Vidya, who appeared in a gorgeous pink 80s-style filmi dance outfit revealing her curves and cleavage.
Vidya danced without any inhibition and flaunted her cleavage to the maximum. Her bust thrusts got thousands asking for more. This was the first time that Vidya Balan performed live on stage. Vidya, in fact was in the verge of a wardrobe malfunction when she bent to touch director Milan Luthria's feet.
Vidya Balan, who realised that she was revealing too much rushed to her vanity van soon after her performance and returned in a red saree with white polka dots to match her look in the film. Naseeruddin Shah, who did a jig before Vidya made her entry got a lot of applause from the public. Emraan Hashmi also managed to get quite a lot of attention.
However, the show stealer was undoubtedly the voluptuous Vidya Balan.
No related posts.
Category: Cinema News
Comments (0)
Trackback URL | Comments RSS Feed
There are no comments yet. Why not be the first to speak your mind.