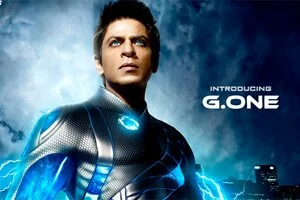 Shah Rukh Khan's science fiction superhero film "Ra.One" looks set to be the only blockbuster this Diwali as Bollywood gears up for the annual festive period.
Like Christmas in the West, the holiday season around the Hindu festival of lights on October 26 is traditionally a bumper time for the Hindi-language film industry, with a slew of big name, big budget movies vying for top spot.
But while major productions have gone head-to-head in previous years, this year there are few, if any, challengers to Khan's special effects-packed movie, which has cost more than $20 million to make — one of Bollywood's most expensive films ever.
Some analysts predicted that the film, which sees Khan play "G.One", who saves humanity from evil villain Ra.One, would break box office records.
"'Ra.One' will get a record opening," said trade analyst Komal Nahta on the entertainment web site koimoi.com. "You will not get tickets. People will go mad when this film releases."
Bollywood fans could be forgiven for thinking that "Ra.One" was already in cinemas, with Khan rarely out of the media and aggressively promoting the movie with a series of marketing tie-ups and promotions in recent months.
The film made headlines for the wrong reasons on Friday, however, when a court ordered Khan and his production company to deposit $200,000 after a scriptwriter claimed that the movie had breached his copyright.
Two judges at the Bombay High Court said there appeared to be a prima facie infringement of intellectual property and told Khan to pay in 10 million rupees to the court or risk seeing the release of "Ra.One" postponed.
The buzz around the film has eclipsed a slew of pre-Diwali releases coming on the back of a successful period from August to October, which produced a string of hit films.
Two other films are due out on October 27, "Tell Me O Kkhuda" (Tell Me O God), starring 1970s star Hema Malini's daughter Esha Deol and veteran actor Dharmendra, and "Damadamm" with singer-turned-actor Himesh Reshammiya.
But both are low budget and low profile in comparison.
Khan has become an established Diwali favourite with the festival providing him with the biggest hits of his career, notably "Diwale Dulhaniya Le Jayenge" (The Braveheart Gets The Bride) in 1995 and "Om Shanti Om" in 2007.
His first Diwali release since then, "Ra.One" is easily Khan's most ambitious film to date, raising the stakes for the 45-year-old actor and his Red Chillies Entertainment production company.
Mayank Shekhar, national cultural editor at the Hindustan Times newspaper, said the huge costs could largely be recovered through marketing and promotion deals.
Television rights have already been sold for 350 million rupees, he said.
But he added that the film would need a long run in cinemas to make substantial returns at the box office, rather than relying on the first weekend receipts that are the usual benchmark for film-makers in India.
Shekhar said success was important for Khan himself.
"He hasn't been around for a while. He was last seen in 'My Name Is Khan', which was a while ago, which hasn't been the case for his so-called rivals," he told AFP.
"Salman (Khan) has delivered three back-to-back hits and Aamir (Khan) has also had three commercial successes." The three Khans are not related.
Shekhar added: "Eid is Salman's weekend, Diwali is usually Shah Rukh's and Aamir has Christmas. That's pretty much how they've had their releases.
"But Shah Rukh hasn't had one (a release) for a couple of years, which is why he's desperate to make up for all the lost time."
No related posts.
Comments (0)
Trackback URL | Comments RSS Feed
There are no comments yet. Why not be the first to speak your mind.