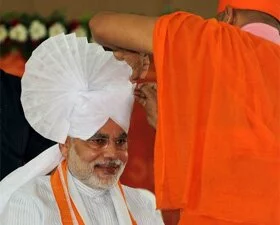 Ahmedabad: Flanked by top Bharatiya Janata Party (BJP) leaders, Gujarat Chief Minister Narendra Modi on Saturday cited the achievements of his 10-year reign as he launched his three-day 'sadbhavana' fast for peace, unity and harmony. The Congress, slamming Modi's ostentatious event, began a parallel fast to protest his regime's "corruption and wastefulness".
Terming Gujarat his family, Modi said the day was not far off when the world would discuss it as a model state. Top BJP leaders, including LK Advani, attended the function and heaped praise on Modi's governance.
The event kicked off at 10.30 am at the Gujarat University convention centre here with chants of 'Allah-u-Akbar' merging with Sanskrit shlokas. The event coincides with Modi's 61st birthday.
The Gujarat CM said the success of his endeavour would mean an end to votebank politics.
"The mission is to unite, not divide. Gujarat is my family, the six crore Gujaratis' happiness and grief, dreams and aspirations is mine," Modi asserted.
"My fast is not against anyone… that was, is and will never be my agenda. Just like the world praises Gujarat's model for development and governance, that day is not far when people will discuss our model for inclusive growth and communal harmony," said Modi, who went to meet his mother to seek her blessings before coming to the centrally air-conditioned venue of his fast.
"I can say with pride that we want to move ahead and give something back to the nation. A state like Gujarat can pull another state which is not so developed. We have the strength and the capability," he told the cheering crowd at the Gujarat University's plush convention hall here.
An hour earlier, former chief minister and Congress leader Shankersinh Vaghela, accompanied by party state unit chief Arjun Modvadia and Leader of Opposition Shaktisinh Gohil, began their counter-fast outside the Sabarmati ashram against the "corrupt and wasteful practices" of the Modi-led government.
Compared to the high profile Modi fast, the Congress function remained a low key affair.
"We do not believe in any exercise which involves wasteful use of public money," said Vaghela.
While Modi's fast venue had multi-metal detector checks and numerous manual friskings before one was able to enter, the Congress' fast venue had hardly any security worth the name and visitors mingled freely with the fasting leaders.
While Modi spoke of how the country needs to emulate Gujarat which is now the cynosure of international eyes, Vaghela sought to focus on local and regional issues of alleged corruption and malgovernance.
As Modi made light of beginning his fast on his birthday, saying he had never celebrated it, Vaghela hit out at his pretensions.
"It (the fast) is aimed at transforming himself into Mahatma Modi to satiate his national political ambitions," said Vaghela, adding how else could he justify a fast for peace when absolute peace already prevails in the state.
The Congress slammed Modi for the "major propaganda exercise". "Why else do you need to spend crores of rupees on nationwide advertisements of yourself when sadbhavana is all that you hanker for," asked Modvadia.
However, Modi received fulsome praise from his party colleagues.
"No other state in the country can pride itself of 11 percent growth. No other state has done so much against corruption like Gujarat," Advani said.
Leader of Opposition in the Rajya Sabha Arun Jaitley too praised Modi's governance, saying: "There is politics of honesty in Gujarat. On the other hand, there is an atmosphere of corruption at the centre."
Recounting the Gujarat earthquake of 2001, the communal violence of 2002 and the serial blasts of 2008, Modi said that each time the people have emerged stronger and have touched new heights of development.
"In 2002, we were struck with communal violence. People were thirsty for each other's blood. Innocent lives were lost. To normalise the tense situation, we used all our might. At that time, I had said in any civilised society such a thing should not happen, but everyone cursed and maligned us. No one supported us."
"People said Gujarat was finished, and that investors will not come here. But we crossed that hurdle and developed by leaps and bound," he added.
He went on to say that he chose the path of fasting to "reach across to people" because he felt this was a stronger medium than just his words.
In an attempt to reach out to the Muslim community, he said: "If any part of the body is weak, the entire body cannot be termed as healthy. Similarly, if any community is weak in the state, it cannot be considered as a developed state."
Though BJP president Nitin Gadkari was absent due to health reasons, he had sent his good wishes to Modi, party leaders said. Besides Advani, there was a galaxy of party stalwarts, including Arun Jaitley, Ravi Shanker Prasad, former party president Rajnath Singh, Kalraj Mishra, Mukhtar Abas Naqvi as well as Rajya Sabha member and TV star Smriti 'Tulsi' Irani.
AIADMK leader M Thambidurai, the party leader in the Lok Sabha, and his counterpart in the Rajya Sabha V Maitreyan were also present.
Himachal Pradesh Chief Minister Prem Kumar Dhumal and Punjab Chief Minister Parkash Singh Badal also came. However, there was no representative of the Janata Dal-United (JD-U) with which the BJP shares power in Bihar.
source from ZeeNews India
No related posts.
Category: Latest News, News
Comments (0)
Trackback URL | Comments RSS Feed
There are no comments yet. Why not be the first to speak your mind.