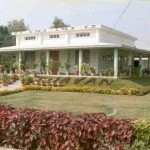 Sanskruthi Vihar is a broad name given to a set of projects  consisting of Technology and training development center (TTDC), District Training Center (DTC) and few tourism promotion ventures.
District Training center is already come up and various trainings are  being imparted to various cadres of district employees to upgrade their knowledge and skills.
For promotion of tourism various activities have been planned in Samskruthi Vihar out of which the following items have already been completed i.e. Tank for boating, Moving Dinosaurs, View points on hillock etc. Under construction items includes Laughing gallery, Childrens amusement park , Toy train, Trekking, Water sports and Urban hutting etc.
Samskruthi  vihar  basically aims at providing both education and entertainment to visitors. It imparts training to rural youth, artisans and Women to upgrade their knowledge and skills and also for the employees of various organizations. In addition to this Samskruthi Vihar will also disseminate the information to the tourists who visits this institution, there by creates awareness among tourists, apart from providing entertainment.
Sanskruthi Vihar is located in Hasanparthy which is 6 Kms away from Hanamakonda bus station. The center has come up in 52 acres area embedded with thick vegetation and blithesome environment. The center is easily accessible as it is located by the side of Warangal to Karimnagar state highway.
VISION OF TTDC
TTDC is an innovative concept aiming at upgrading vocational skills and bringing better technologies to the doorstep of the rural artisans in order to enhance their capacities and livelihood opportunities. Enabling the rural micro entrepreneurs and artisans to access better technologies as well as newer markets is absolutely essential to improve their income and living standards.  TTDC has been brought into place to play this pivotal role.
It would develop as a professionally competent, efficiently managed and self sustaining organization in the area of micro entrepreneurship and self employment promotion.  It would get established as an excellent resource centre and would gain reputation for its best quality of services.  The centre would grow with the capacities to meet demands of all govt. agencies engaged in self employment promotion and it would make an ostensible outstanding contribution in steering the micro enterprises of the poor towards success and prosperity.
OBJECTIVES OF TTDC
To cater to the specific skill up gradation needs of different focus groups including rural artisans.
To identify advanced technologies and tools and facilitate adaptation of the same by local micro entrepreneurs.
Promote sustainable entrepreneurship and self employment ventures through trainings & regular business counseling.
To demonstrate locally relevant & useful technologies not only from the point of view of entrepreneurship promotion but also to sensitize about other crucial aspects (eg. Sanitation, Natural resource conservation) of enhancing quality of life.
To create and consistently upgrade the data bank on human & natural resources with a special focus on potential entrepreneurship & market opportunities for the target groups.
To facilitate lateral learning and cross fertilization of idea between different groups of artisans and entrepreneurs.
To initiate and strengthen networking among rural artisans and entrepreneurs so as to enable them negotiate better with the market.
To conduct regular trainings for strengthening the leadership and self help organizations of the poor.
To bring together different govt. and Non-govt. organizations engaged in the course of employment & entrepreneurship promotion to work together for evolving innovative ideas & approaches.
Category: History, Warangal Info
Comments (0)
Trackback URL | Comments RSS Feed
There are no comments yet. Why not be the first to speak your mind.