As soon as one hears the word Aravana, the mouth starts watering, it is so delicious. Aravana is sweet made of jaggery, rice and ghee. It is a most favoured prasadam at the temples and is mostly known as Sabarimala Aravana Prasadam, the offering to the Lord Ayyappa.
This Ararvana payasam is also known as Neyy Payasam and  Kadum payasam. This payasam is usually made during the festival seasons at the temples  and homes as a Prasadam / offering, to the Gods.
For preparing the  payasam the method is very easy and the ingredients are also easily available at home.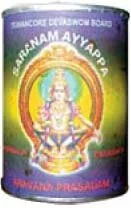 Ingredients needed for Aravana Payasam
1  cup raw rice
1 1/2 cup jaggery ( use the sweet jaggery)
1/2 cup ghee
1 tsp cardamom powder
1 tbsp kismis
2 tbsps cashew nuts
2 tbsps small bits of coconut
How to prepare Aravana Payasam
Wash and drain the rice, spread it on a towel so that it gets dry.
Heat a pressure pan or a similar thick bottommed vessel, add 2 tbsps of ghee and fry the rice till a nice aroma comes and the rice gets hot to the touch.
Add enough water at least 2 cups of water to get the rice cooked soft but do not let the rice get mashed up.
Add half of the remaining ghee to the rice and mix well. Simmer and keep stirring till the rice and the ghee combines well together.
Now add the crushed jaggery to the boiling  ghee and rice mix. Stir well so that all the ingredients combine well together.
As soon as the jaggery melts and starts boiling nicely, add the rest of the ghee.
Simmer and keep the vessel in low flame, only then the rice will blend nicely with ghee and jaggery.
Add the cardamom powder and the cashewnuts and kismis, fried to a golden colour, in hot ghee, to the payasam.
Serve either hot or cold.
Points to Note:
The water added to the recipe will be according to the rice used. If Kerala Red rice ( Broken ) is used the payasam will come out very nice. The rice will take more time and water to cook.  For one cup of rice at least 4-5 cups of water will be needed to cook the rice soft.
If you are using the cooker to get the rice cooked be sure of the amount of water needed for the rice to cook soft. It should not get too soft or mashed.
Add jaggery according to your taste. I am using 2:3 of rice and jaggery here. You can change it according to your taste.
Category: Ayyappa Songs, Devotional Songs, Downloads
Comments (0)
Trackback URL | Comments RSS Feed
There are no comments yet. Why not be the first to speak your mind.