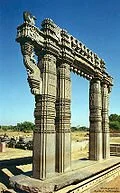 The Warangal Municipal Corporation was set to become bigger. The town would soon be accorded the greater status on the lines of Greater Hyderabad and Greater Visakhapatnam Municipal Corporations.
It was proposed to merge 42 villages around the Warangal Municipal Corporation into the Ccorporation to make it Greater Warangal Municipal Corporation.
A communication in this connection was sent to local authorities by the Municipal Department secretary Vijay Kumar.
He directed the district administration to give a public notification, that the issue which was pending for the past two years was set to be resolved.
It was said that there had been objections from some political sections on the merger of the villages into the Corporation.
In order to solve the issue the government decided to go by the provisions of sections 2 and 3 of Andhra Pradesh Municipal Corporation Act 1994.
With this the district administration would solicit objections and suggestions on the matter from the public within the 10 days of issuing the notification.
Following which a report would be prepared by the District Collector, who has to approve the merger as he holds the position of Municipal Corporation special officer. "This is really good news for us and it paves the way for development of tri-cities" said P Rajanikanth, a resident.
It might be noted that on September 10, 2009 the then council of the City Municipal Corporation passed a resolution to merge 42 villages from five mandals around the town. This would increase the size of the town by two times, official sources.
The present area of the town was 110 square km and it would be increased to 250 square kilometres with the merger of 42 villages, according to the town planning officials.
Likewise, the size of the population would also swell to 10 lakh from the present 6.20 lakh as per 2011 census.
Nineteen villages from Hanamkonda mandal, eight villages each from Hasanparthy and Geesukonda mandals, two villages from Dharmasagar mandal and three villages from Sangem mandal would be merged with the Warangal corporation, if everything goes as planned.
With the greater status accorded to the Warangal Municipal Corporation, it would be a field day to the real estate brokers in the town as the prices and demand for the lands would shoot up.
source from TheHansIndia